NJCF Newsletter | December 2022
The Lede
You may have noticed that we took a break from sending these updates, but that's just because we've been busy. In particular, since we last checked in, we've successfully rolled out a new school enrollment platform, Newark Common App, that is providing families an easier and more equitable process for applying to 80% of the charter schools in Newark. We'll have more to say on this exciting project soon. 
But in this issue, we wanted to highlight an even more pressing matter that demands our immediate attention – the failure of the state Department of Education to release the full results of the most recent student state exams, the New Jersey Student Learning Assessments (NJSLA). 
It is an embarrassment that New Jersey is now one of only two states (the other being Maryland) not to release a full data set.
Without this information, parents are unable to fully appreciate just how far their children have fallen behind since the pandemic. As a result, New Jersey policy makers lack the urgency to take the bold action necessary to address this crisis. 
Last week, a presentation to the State Board of Education gave us some indication of just how bad things are. On New Jersey's own state assessments, scores were down pretty much across the board.  Even more troubling is the fact that the gap between white and black students has grown. While this widening gap fits into the well-publicized national trend, New Jersey's drop seems to be worse than other states, as demonstrated by its falling rankings on the National Assessment of Educational Progress (NAEP). New Jersey fell from 3rd to 5th in the nation on reading and 4th to 16th in the nation  on math.
We want to tip our cap to JerseyCAN and the Urban League of Essex County for hosting a thoughtful and honest dialogue on this topic a few weeks ago. And to State Senator Teresa Ruiz for speaking the truth when she said there that "the number one question in New Jersey is 'where are we?' The answer is 'we don't know.'"
We also want to commend the Newark Board of Education for doing its part in releasing school specific data unlike the state and other districts.
One thing we know is that we won't solve this problem, nor help our kids,  by trying to hide the ball. Education reform hinges on having difficult conversations about difficult issues and then finding solutions. We can only hope New Jersey policymakers have it on their list of New Year's resolutions to honestly discuss and urgently and boldly address this crisis in education.
Things you should read, watch, or listen to
Grantee Spotlight: Girls Helping Girls. Period.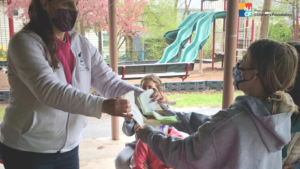 Period poverty, the struggle many low-income women and girls face accessing feminine hygiene products and education, has only recently started to receive the level of attention it rightfully deserves. In our desire to help address this critical issue, we are proudly partnering with Girls Helping Girls. Period to offer menstrual management school workshops for students in 5th to 12th grades. The first workshop took place in November at Thirteenth Avenue School for 25 7th and 8th grade female students. These programs offer an age-appropriate, relaxed atmosphere for students to learn the basics of period management. All participants receive free feminine hygiene products, courtesy of corporate sponsors. As part of this work we are also hoping to build awareness of and support for proposed legislation that would require placing feminine hygiene products in all public schools. We're excited to see this work continue in the new year. 
'Tis The Season
At NJCF, the holiday season has always been a time for us to show thanks by supporting worthy causes. Among the many incredible community-focused programs that made our nice list this year were: 
November 20:

Anibal Ramos Jr. Civic Association's "Turkey Giveaway" ($2,500)

December 7:

Newark Trust for Education's "Mayor Baraka's Newark School Leaders Dinner Forum" ($5,000)

December 10:

La Liga Roberto Clemente de Newark's "50th Anniversary Gala & Scholarship Dinner" sponsoring Tave Padilla Scholarship ($1,000)

December 17:

United Community Corporation's "Shop with a Hero" sponsoring gift cards to

"Shop with a Newark Hero

" ($1,000)

December 17:

Down Neck Community Group (Ironbound Little League)'s "Cookies with Santa" ($1,000)

December 21:

Newark Housing Authority's "TREC Annual Toy Giveaway'" ($1,000)